2537 TUBE CUTTING MACHINE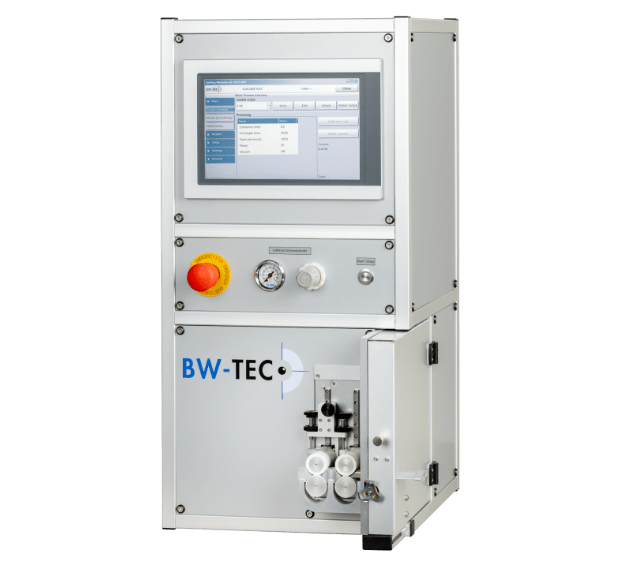 The automatic Tube Cutting Machine is designed for cutting plastic tubes with small wall thickness and is particularly suitable for high cutting volumes. The special cutting movement, combined with the minimized thickness of the cutting-edge results in rectangular, burr-free, cleanly cut edges. By varying the cutting pressure and choosing the right die, the customer achieves the optimum result. High efficiency and economy are achieved through the use of standard cutting blades.
Technical Specifications:
cutting tool diameter: 0.5 – 6.6 mm
cutting length: 1– 2,000 mm
tolerance: ~1% friction drive, depending on tube material
speed: 0.1– 500 mm/s
cutting pressure: 1.5 – 6 bar (22 – 87 psi)
part counter: 1– 10,000
interchangeable cutting die
PLC controller with touchscreen display
user friendly BW-TEC HMI
start/stop button for easy operation
tube guide: 760 mm
air pressure: 6 – 8 bar (87–116 psi)
dimensions (L x W x H): 465 x 370 x 855 mm
weight: 28 kg
power: 100 – 230 VAC, 50 – 60 Hz
Options:
Adjustable Spool Fixture
The guided and adjustable spool fixture allows cutting from a wide range of roll sizes.
Axial Dies
With the axial cutting dies, an incision can be made with each cut, which makes it easier, for example, to remove heat-shrinkable tubing after use.
Vacuum Box
The vacuum system allows the cutting of very short cut lengths, which are collected in the vacuum box.
Zip-bag Collecting Device
The zip-bag collecting device collects the cut lengths directly in the zip bag, which enables fast and clean packing.