1401 CUTTING DEVICE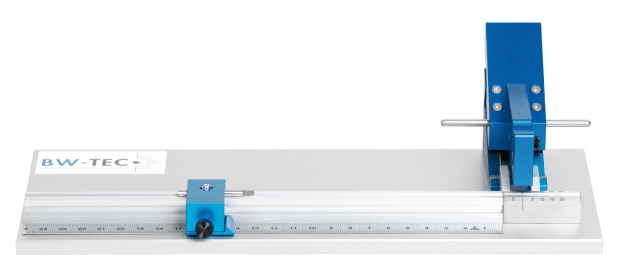 The manual 1401 Cutting Device is specially designed to cut plastic tubes with a small diameter and a thin wall thickness.
The cutting head is mounted on a precision linear slide. An industrial cutting blade supported by a product V-guide with a cutting slit is able to produce a perfect rectangular cut. The adjustable stopper guarantees a reproducible length.
The 1401 Cutting Device can be ordered with different ruler lengths.
Technical Specifications:
made of anodized aluminum
product guide right with blade slit in stainless steel
product guide with 2 mm V-shape
ruler length left: 250 mm with adjustable stopper
ruler length right: 20 mm
ruler with 0.5 mm pitch
cutting diameter max. 4.0 mm
standard industry blades for 1.0 –1.5 mm thickness
dimensions (L x W x H): 305 x 125 x 85 mm
weight: 1.5 kg
Option Ruler Length:
1401000 – 002: 250 mm
1401000 – 003: 500 mm
1401000 – 006: 1000 mm
1401000 – 009: 1500 mm
1401000 – 011: 2000 mm